Welcome to our second installment of Photo Chic where we discuss every woman's favorite accessory, shoes! As was mentioned in a previous blog post on 10 Tips for Better Portraits, clothing choice is a very important part of planning for your portrait session and wedding. It includes determining a color palette, accessories, details and of course shoes. If you're anything like me, you completely identified with the iconic moment when the character Carrie from Sex and the City walked up to a window display and loudly proclaimed to the Manolo Blahnik shoes, "Hello Lov-ah!" Didn't you instantly feel a bond with Carrie because she too understands our near obsession with shoes?
In either case, shoes are a very real and valuable part of a wardrobe, and can completely make or break an outfit. When wearing a monochromatic outfit, sometimes adding a little color pop in a bright red, or bright blue adds just enough sass and spunk to the outfit to perfectly reflect who you are. Or if you're a little more subdued, then you can choose a shoe in a complimentary color to your outfit but may opt for a fun texture, pattern, or embellishment such as feathers or ruffles. See Nicole's little color pop on her shoes from last night's Oscar's or Demi Moore's complimentary heels with her red carpet gown.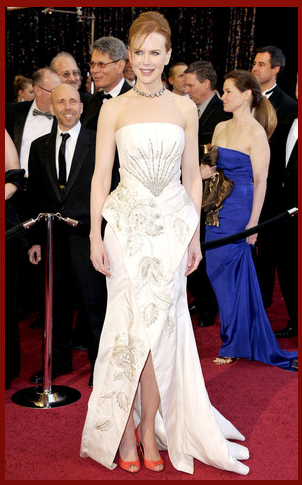 So take a few hints and tips from the Red Carpet and past clients on how they've stylized their weddings and portrait sessions, and please don't hesitate to ask during your consultation about shoe options. I always say, I'd rather you bring more and then we can decide together what is best for you, rather than not have the right options for your stylized event. So be playful, be daring, and have fun. After all, we need to follow the wise words of Coco Chanel, "A woman should be two things, classy and fabulous."
Here's a few of my favorites from Christian Louboutin followed by a couple client images.