How much more fun could this have been?  Photographing an engagement session of 2 darling people that are so in love.  It all started 11 years ago when I first moved to Las Vegas and met Terri, fresh out of college.  Our mutual academic background and future career goals quickly bonded us and we became friends fast.  Over the years our friendship grew as we experienced birthday parties, career growth, and moving out of state.  But our bond stayed strong and we continued to stay in contact.  There was always something special about Terri and I knew her infectious energy would attract the man she deserves some day.
This is when Jd walked into her life.  Having met in Oregon, Jd and Terri quickly knew they were meant to be.  They survived a moved from Oregon back to Las Vegas, and then a final move to New Mexico for Jd's job.  You can imagine I wasn't surprised when Terri broke the news to me that her and Jd were engaged, but of course I was ecstatic for the 2 of them.  Their bond, mutual life goals and respect and love for each other is unbeatable and I am so happy for them.  Seeing that beautiful smile on Terri's face is all I or anyone needs to see to know this is the real deal.
With me here in Las Vegas and Terri and Jd in New Mexico, arranging their engagement session was a bit tricky, until Terri suggested we meet in Phoenix, the middle point.  Perfect!  Both Jd and I have family in Phoenix so we all made a weekend of it and met up for their fun session including gorgeous pups Tess and Dug.  What an absolute joy it was to photograph all 4 of them, and I am so thrilled to be photographing their wedding this Fall in Oregon.  I'll be the with the camera, crying tears of joy.
One of my favorites images from the entire session.  What a gorgeous family!
Love this picture of Dug and Tess.  There were so well behaved!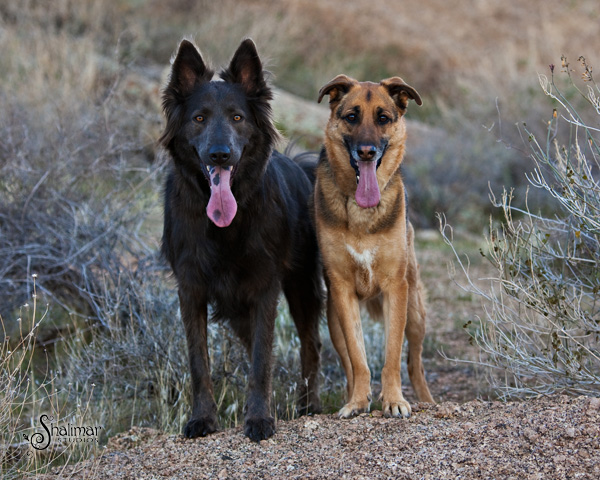 One word Terri…raar!