I was recently approached by industry visionary, friend and mentor, Scott Bourne about heading up a new SmugMug group here in Las Vegas. Of course I jumped at the opportunity as this was just the thing local photographers here have needed. For those of you who are not familiar with SmugMug, it is a photographer's dream. It encompasses tons of benefits, such as online hosting of images, video and fabulous presentation for clients. There is endless customer support and in an effort to extend their big arms around their virtual family, SmugMug has organized several meet up groups around the country. These groups are fit for the hobbyist to the pro, and each meet up event is different covering topics such as marketing, sales, workflow, and even photo walkabouts.
Our first meet up took place in May, and we sold out in attendance. Scott helmed the meeting and wowed the group with his 30+ years of experience in the industry answering questions, talking about his most recent photography endeavor in Alaska photographing eagles, and overall welcoming the group as a whole new family. We were lucky also to have in attendance, Rocky, a SmugMug representative whom flew out from Michigan just for this meeting.
Our most recent SmugMug meeting was just recently held in SPACE downtown and featured Scott covering photo editing software, and yours truly speaking on my wedding business! I have to admit that I was a bit nervous at first, but once I got started I felt right at home talking about my specialty photographing Indian/Pakistani weddings. It was another packed evening full of fun, friends, photogs and great information.
Here I am in what Scott introduced as sporting the latest in prison fashion! Even with all the laughs, I had a great time sharing something new with my fellow photographers.
Showcasing the tradition of applying Mendhi (henna) to the bride's hands.
Talking with my hands or just explaining how the bride throws rice over her head as she leaves her parents' house?
After I spoke, Scott took the stage and showcased his knowledge and best tips and tricks using Aperture and Photoshop. He wow'd the crowd with hands-on retouching from start to finish on both a model and a bird!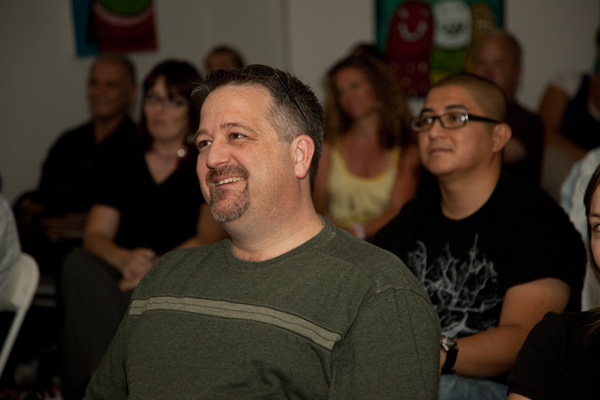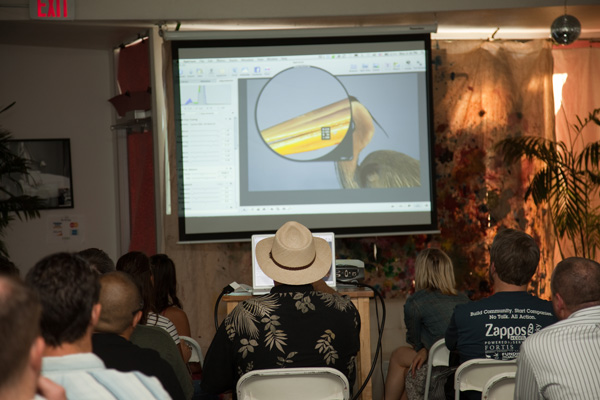 Scott and I have big plans for this meet up group, and if you're interested in joining and staying up to date on all the fabulousness surrounding photography, we'd love to have you join us. Click here to be redirected to the Las Vegas SmugMug group and sign up for free. Then you'll be notified for future meet ups, especially the next one featuring world renown photographer, Bambi Cantrell (and a few surprises too!)