I recently made a trip back into my old stomping grounds to Siegfried & Roy's Secret Garden & Dolphin Habitat at the Mirage Hotel. It's been over 8 years since I've worked there, and each day was a treat to call that oasis my "office." Since leaving I've often returned to not only visit my friend Amy, but see the animals and how they are growing. Most are unaware of the successful breeding program the Mirage hosts in this area with their dolphins, as well as Siegfried & Roy's breeding program for their endangered cats.
Knowing I was going in to visit these beautiful ambassadors, I grabbed my 100-400 mm lens which I purposely purchased for photographing animals. This way I could stay a safe distance away, and still capture some amazing pictures. Some of you may know I come from an animal behavior background and have always had an affinity for working with animals. So once I transitioned to photography, I knew I'd be able to share the stories of these gorgeous beasts in a different way. That is why I purchased the 100-400 lens exclusively for this purpose.
The one issue when photographing animals in a zoo or habitat type setting, are those darn fences! I completely understand the need and use for them, after all these are wild animals. However the challenge is how to capture beautiful, safari-like images as if you were out in the Masai Mara. One trick is to use a long focal distance, in this case zooming my lens all the way out to 400. Then, the most important part is to get your lens as close as possible to the fence. The closer your lens is to the fence the more the lens ignores it and essentially makes the fence disappear. Viola, you've now captured images as if you were feet away from the ferocious beasts!
Here I am standing outside the leopard habitat, and you can see the leopard sleeping on the rocks to the far left with a fence separating us.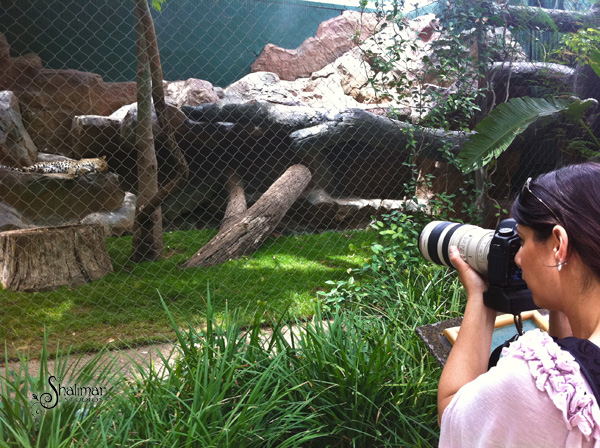 And here is the image I captured with my camera.
Here's one more image of me outside a habitat with White Striped and Snow White Bengal Tigers at the very far back against the green wall. You can see on my LCD screen how far I zoomed in.
And here are a couple of my favorites of the tigers.
So the next time you make a trip to your local zoo, try these tips to capture beautiful imagery of exotic animals and be proud to print, frame and display them on your walls.