My family normally gathers in Arizona at my parent's home to celebrate Thanksgiving. This year, our plans changed last minute and we ended up in New York City. It had been about 6 years since I had been in the Big Apple, and I can tell you, each time I go I fall more and more in love with this city. Not only was I familiar with all the landmarks, but I was able to visit a few new places as well.
The first time I visited New York I was probably about 6 or 7 years old. We had good family friends that had moved out there so we made a vacation out of our trek out East. With 2 sets of parents and a combined number of 7 kids, we ventured all around the city as typical tourists. We visited the Statue of Liberty, Times Square, and even took the long elevator ride up to the observatory deck of one of the World Trade Center buildings. Now I have to admit that I am a fanatic when it comes to storing and archiving photos, so I knew exactly where to go to find the pictures below. These were taken of my family and our friends from the top floor on the World Trade Center. Of course we would not know the importance of these images at the time, but as you can guess, they are now historical.
Here's my brother and father with the WTC behind them.
And these next 2 images are from the top of the WTC.
I had found those images above many years ago right after the September 11th attacks and quickly emailed them to my family members. I wanted them to see the images and be reminded how precious life is. At the time these images were taken probably by me or my brother and were casual, candid vacation photos. And now they have become historical markers of something that will never exist again.
It is with this in mind that I strive to capture moments and monuments, because we never know what life will deliver us tomorrow. So when I traveled back to Ground Zero a few weeks ago, all those emotions came to the surface again. Little did we all know that this place documented above so casually would turn into a monument of destruction and despair. And so below you will find some images I capture this time around. Even through the construction and destruction there is hope. And without these images to document and remind us, it could very well be forgotten.
Here is the Fire Station that directly faces Ground Zero.
The construction at Ground Zero. From the ashes a Phoenix will arise.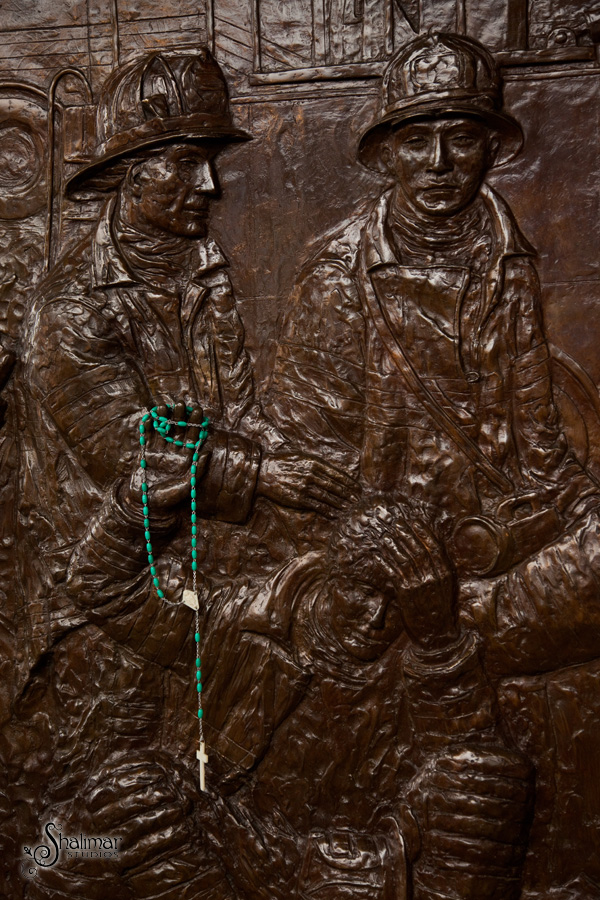 The next few images are from St. Paul's Chapel, directly across the street from Ground Zero. Here below, the graveyard looks upon the construction and rebuilding.