What an absolute blast I had photographing the Glitterati Charity Pageant at the M Resort. This was a night full of culture, dancing, beautiful and talented girls, and most of all, raising funds for the Akshay Patra Foundation, all spearheaded by the visionary, Anamika Tara.
Nine months ago I contact Anamika after I read on the VegasDesi website about her charity pageant idea. We met face to face, discussed our ideas of working together on this project, and walked away knowing we were the perfect fit for each other. I felt like I could have hugged her when I first met her. Such a calm and beautiful soul she has, and it is a true testament to her character to give back. Anamika chose the Akshay Patra Foundation because it directly goes back to her home country, India, where it provides over 1 million meals a day to poor children. When the children are provided food by the foundation, they are then given an incentive to attend school, and not have to miss due to a lack of funds to purchase their own meals. In a short amount of time, the Akshay Patra Foundation has broken its own records, and Anamika is continuing their mission here in the United States by raising funds and donating it back to the country where many local residents have come from.
After months of practice, planning and stress, the entire event came together and was a hit! Spearheaded by local dance champion Namrata Israni, she not only was a pageant participant, but also choreographed many of the dances the girls performed. Overall, it was a wonderful evening for the Las Vegas South Asian community to join together. The 14 girls were stunning in their Western outfits, evening gowns, and saris. The evening topped off with Namrata beating out the 13 other girls and won the title of Miss Glitterati 2010. Congratulations Namrata!
To see the entire event album and order prints, please click here.
Here's Divya and Karishma walking the runway in the opening number.
And beautiful Erum, modeling a gorgeous purple sari.
Karishma in her black and silver sari.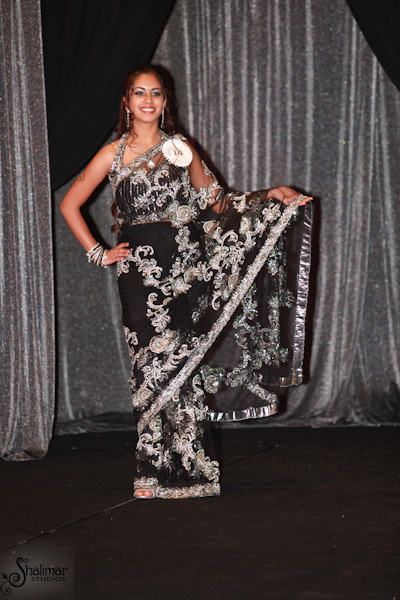 Here's the winner, Miss Glitterati 2010, Namrata Israni!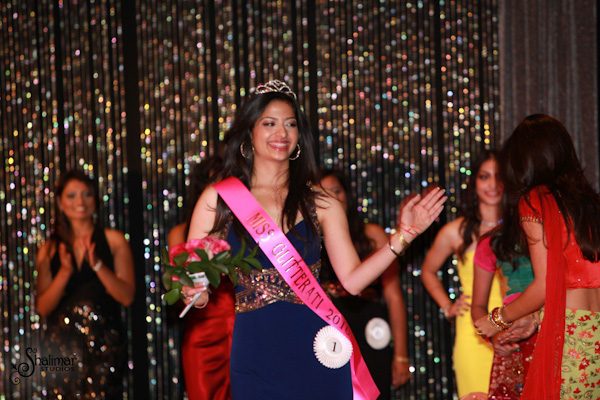 And finally, here is Anamika with Ria – Miss Photogenic, Namrata – Miss Glitterati, Anisha – Best Eyes, and Fatima – Miss Congeniality, Best Cat Walk and Runner Up.