As I mentioned in my previous blog post covering Akash & Karishma's wedding, it was a 3 day extravaganza filled with love, laughter and a deep-rooted sense of family. That is typical of South Asian weddings as they are not only a marriage of the bride and groom, but a marriage of the 2 families. Family members play an important role in every tradition involved with an Indian wedding, and this one was no exception.
After all the excitment of the mendhi, sangeet and Hindu wedding ceremony, we rounded out the events with the reception at the gorgeous Frank Ghery designed Lou Ruvo Center for Brain Health. There couldn't have been a better venue for Akash & Karishma as it perfectly represented their interests and passions in life. Akash is an engineer and Karishma is a physician; the perfect pairing of their two professions. And not only did it serve as a unique and stylish venue, but part of their rental fee was a donation to the Brain Institute for research.
Here's the building just before the celebration commenced. Can you believe that gorgeous moon that just happened to show up too?
While friends and family were walking the red carpet and snacking on appetizers, Akash and Karishma were taking their time for their grand entrance. They changed into a second outfit, Karishma into an elegant yellow lengha, and for Akash, a tailored suit with a Burberry tie. Their wardrobe perfectly complimented the purple decor of the reception area. So here'a a few images I was able to sneek in before they made their entrance.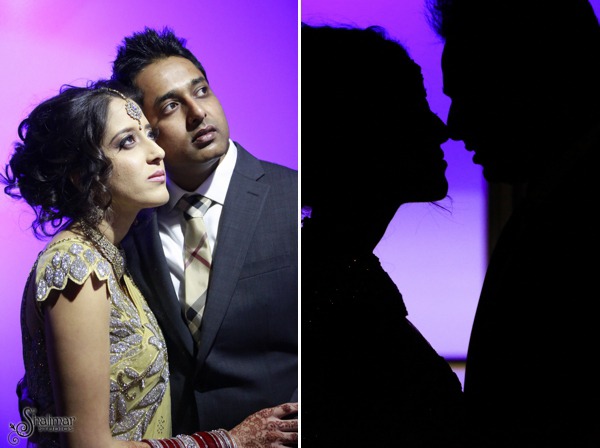 And just as Karishma and Akash made their way into the Lou Ruvo Center, one could not have been more taken aback by the stunning decor and the amount of effort Karishma put into the details. The first sight upon walking in was this gorgeous 7-tier cake.
Karishma and Akash's elegant and chic style could be seen throughout the whole venue, from the flowers to the candles. An eye for detail and wanting their friends and family to walk into a warm room, their individual touches could be seen everywhere.
And who could not love their first dance on a white dance floor, surrounded by the most important people in their lives.
After dinner and some meeting and greeting, Akash and Karishma had the opportunity to sit and be entertained by a traditional bhangra dance led by Akash's younger brother. The fast paced movements and energy pumping music had eveyone clapping along to the drumming rhythm and beats.
And after such a wonderful performance, the whole wedding party joined in the dancing and fun until midnight. What a lovely 3 days it was and one of my favorite weddings and events from all of 2012.