I have been practically jumping out of my skin wanting to share Akash & Karishma's Las Vegas Indian Wedding. They have such love and respect for each other, and it was shown through every part of their 3-day wedding extravaganza. The first day was the traditional Mendhi where the women get together and have mendhi (henna) applied to their hands and feet. Mendhi expert Melissa of Vegas Henna worked her magic and created both intricate and beautiful designs on Karishma.
The second day of the wedding traditions was the Sangeet where there were many gifts exchanged amongst the bride's family and groom's family. More importantly this is where blessings, money and good will are wished up the new couple. After a seated dinner there were many dance performances by the bride and groom's friends in traditional Bollywood and banghra style.
Day 3 was the actual wedding day. It started at 6:30am with Karishma's puja (blessing ceremony) filled with her uncles and bridesmaids all participating in traditions which helped her prepare for the wedding ceremony. Some helped her put in her bangles, others blessed her by rubbing oils and paste on her skin to make it flawless and supple. As you can imagine there are a lot of traditions that encompass an Indian wedding and it would take far too long to describe them all here, so instead I'll show you the day in pictures.
Karishma wore a traditional bridal lengha in red.
As you'll learn, this girl has got some style to her, so she added a little designer flair with her Badgley Mischka heels too!
She wore jewels befitting only the most beautiful of maharanis!
With the assistance of her mother, sister and close female relatives, Karishma transformed into one of the most beautiful brides I have seen. Stunning does not even do her justice.
And with such a stylish bride, I couldn't leave out some of the bridesmaids and flower girl. The whole wedding party was gorgeous!
Over at the groom's house, Akash was also prepping with the help of his 2 brothers and other extended family members participating in deep-rooted traditions of the Hindu faith.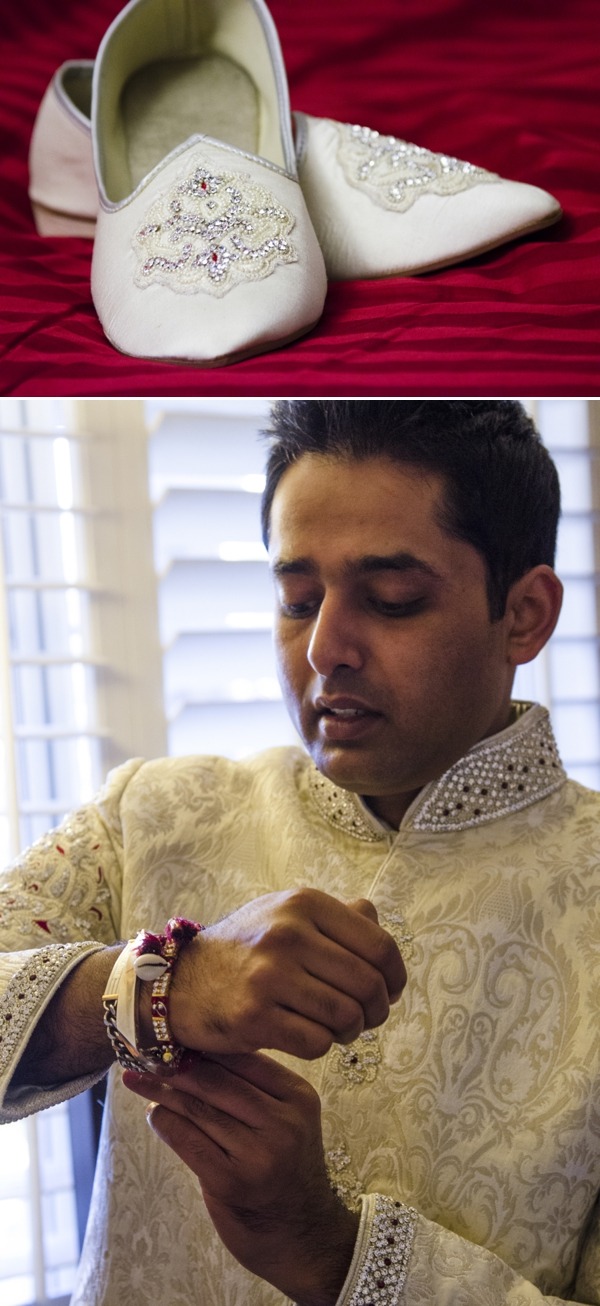 Adorned in garlands made of money!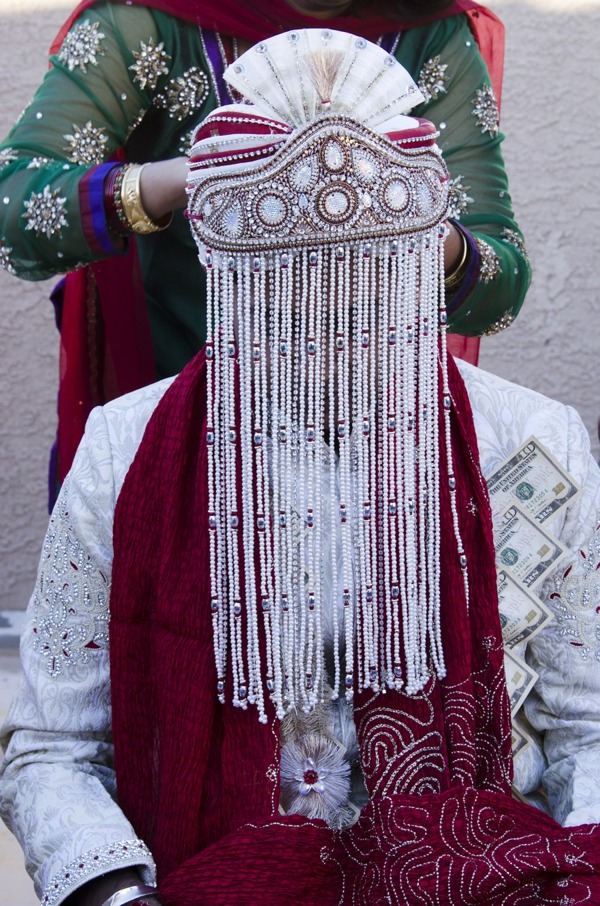 And then it was off to the Las Vegas Hindu Temple for the wedding ceremony. In traditional style, Akash's arrival was upon a white horse (provided by Horse Around Town,) and was the cause of much celebration amongst his family members as they made their way to the Temple entrance.
The bride's family teased Akash and at first didn't let him into the Temple unless he paid them! Such a fun tradition for the bridesmaids and bride's family to partake in.
Once inside the temple, the mandap and decor matched the red color scheme. It was a beautiful temple with gorgeous sunlight streaming in through the glass panels in the ceiling.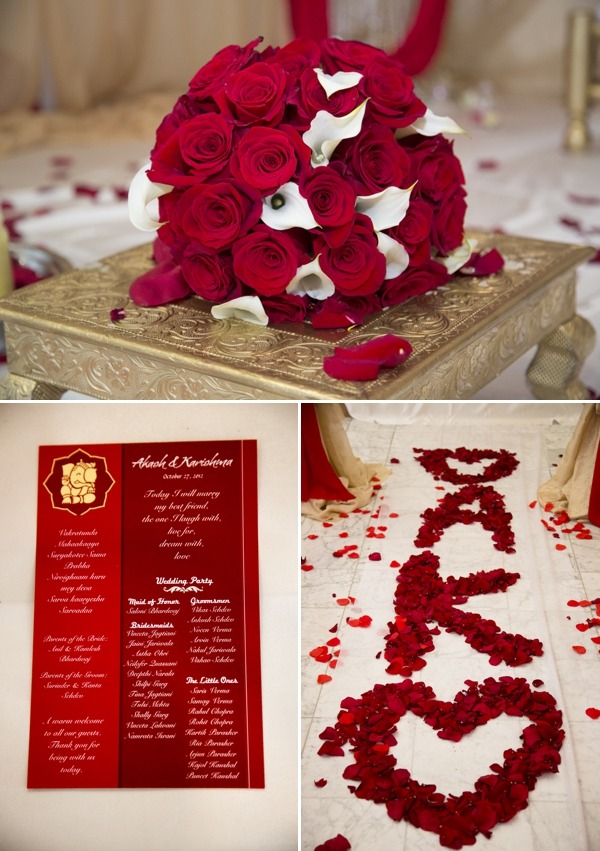 Karishma wasn't the only one in the temple with a big smile on her face. She was beaming as she made her way towards the mandap to see Akash.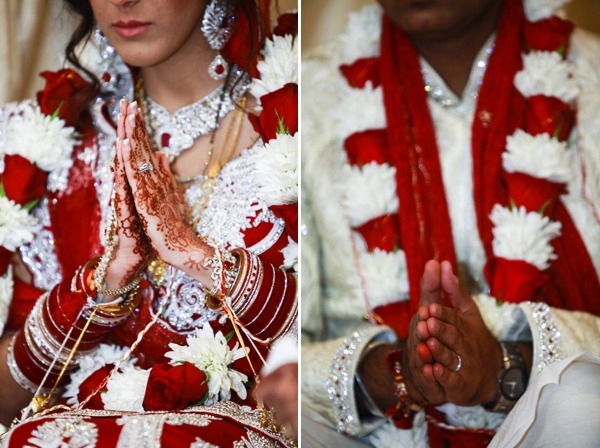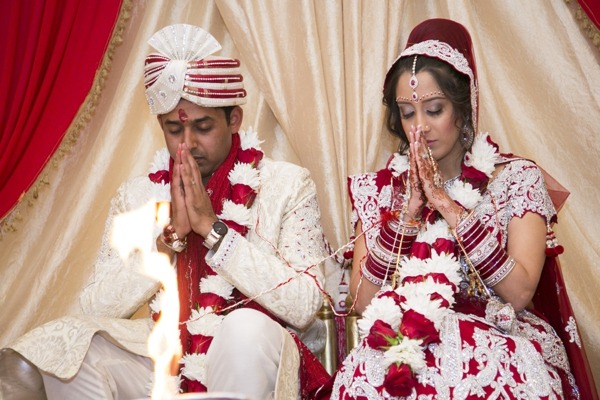 Upon completion of the ceremony, Akash and Karishma were pronounced married and everyone erupted in applause and sincere love for this gorgeous and bonded couple. I often cry at weddings and this was one particular event that touched me on a deeper level because it was from my own culture. I can not be more happy for Akash and Karishma, some of the most darling, down to earth, caring and gentle people I know.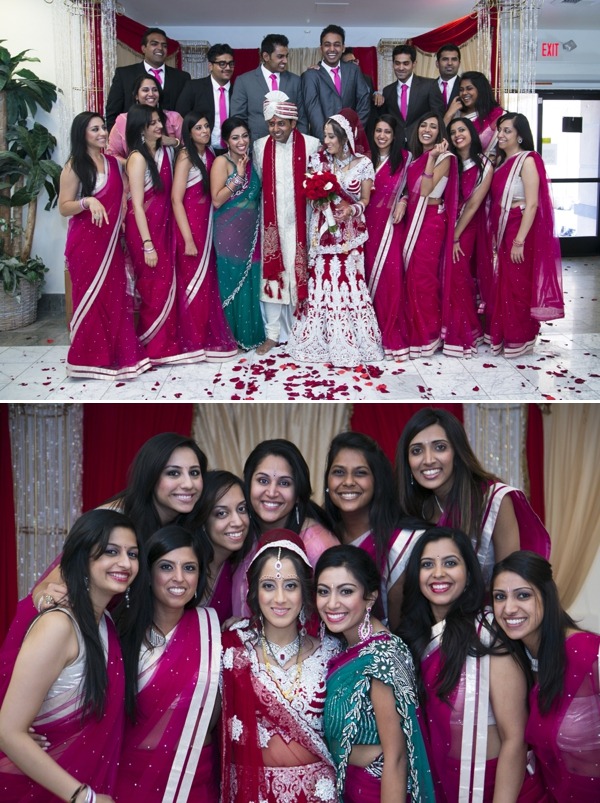 And here's a few images of the new husband and wife on the grounds of the temple. Congratulations Akash and Karishma!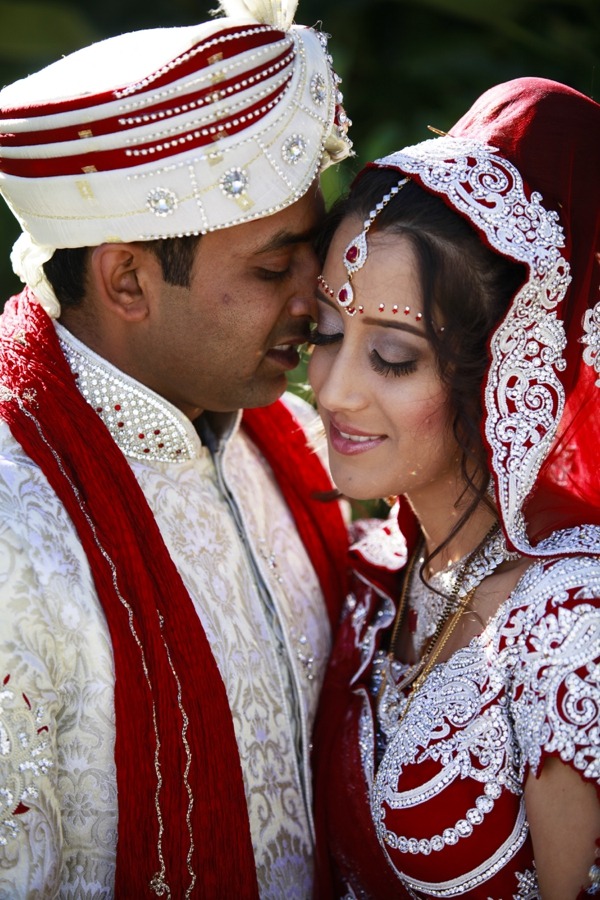 Stay tuned for tomorrow's blog post all about their reception at the Lou Ruvo Center seen below!