Recently I received a direct message on Twitter. First I didn't know what a direct message was as I'm new to Twitter, but I quickly figured it out when I saw who the message was from. It was from Mike Hanline, the owner of the printing lab that makes all your fabulous portraits, and albums, and mini-accordians, and gallery wraps. It was a personal message, just for me. As I was reading it, I had to look behind me as if it was directed at someone else. Then I realized, yup, it was for me! It was a personal invitation to come see the headquarters and printing lab. What? Did I read that right? I did a little happy dance in my office, then sat down and re-read the message about 50 more times.
So I made my trip to the headquarters and have to admit that at each step of the planning process, I was more and more impressed with the facility. I was immediately contacted to set up my appointment and tour, and when I arrived on that wonderful day, I was personally greeted by Nicole, one of the guest services representatives.
As I stepped in behind the secured doors, I felt like I was given the key to the treasure chest full of photographer's gold. Everything was streamlined, clean, ergonomic, and I knew if I lived in this city, I would want to work here. For some reason I expected to encounter sounds and old-time printing presses, and smells of ink, yet those were not there. Instead, I witnessed what could have been the happiest employees in the US, comfortable in their own clothes, and happily working away printing and viewing the nation's most stunning photography crossing their desks every day.
Here are some of the images where your Shalimar Studios portraits are printed, prepared, and given a stamp of approval before being delivered to your homes. I was thoroughly impressed with the facility and can not thank Mike and his staff enough for extending the invitation. Their warmth is unending!
Their fabulous customer service department. I feel like the only customer they have when I give them a call.
Here's the inside of one of the portrait printing machines. It all looks so complicated. This gentleman must have read the confusion on my face so he talked about the pretty colors.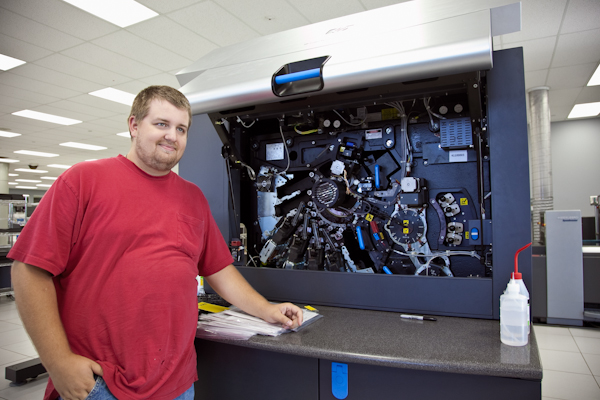 This is where the printing and binding for our albums take place. The two big stacks on the right side of the table are all albums with custom designed covers, just like yours from Shalimar Studios!
For those of you that love the linen texture on your portraits, just like I do, this is where that magic happens. Each portrait after being printed, is individually fed through this press where it gets embossed with the texture. So amazing the details that go into our portraits!
Here's another image being pressed with the linen texture.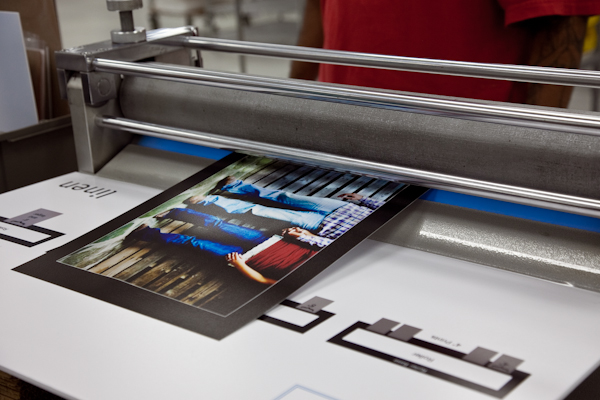 And this is where the magic happens. This is where all your Fine Art Portraits come from. Whether it's an 8×10 or 40×60. I put my hand on her and named her Bertha.
Next after printing and texture is applied, the portraits are mounted. This is a tedious and detailed process, but they made it look so easy!
And those darling Mini-Accordian albums, yup, this is where they are hand-assembled. Such great gifts for Moms or Grandparents to carry around in their purses!
And my favorite, here are Gallery Wraps which are loaded into the printer via a server and printed here, directly onto the canvas. The beauty of these Gallery Wraps is the simplicity of the image, hung on the walls, museum style.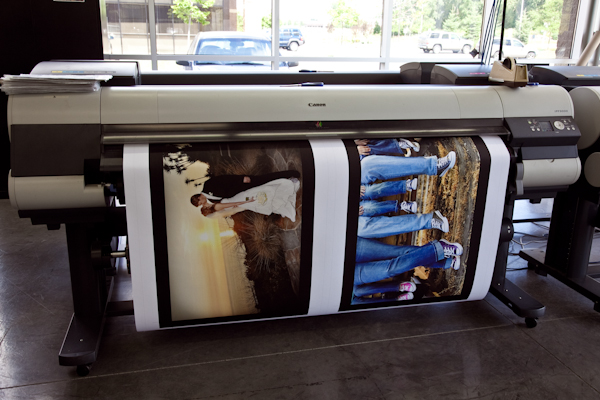 Next, they are trimmed and mounted on their wooden frames.
These contraptions stretch the canvas over the frame and allow for fine adjustments to make sure the image is perfectly centered and wrapped around the edges.
And this is one of my favorite images of the day. Here I am with Mike and his wife, standing along a wall documenting the growth of the printing lab. From a small mom-and-pop facility catering to local photographers, to a multimillion dollar operation now spanning 3 states and employing hundreds of employees, I'm proud to be associated with them. Mike, your lab is unbeatable in print quality, customer service, and warmth. Thank you so much for extending me the offer to visit the facility and meet you. I look forward to a long and healthy relationship and look forward to seeing you in a couple of weeks!
Your fan, Yasmin