Tell us a little about you.
I am a mother of 5, wife and I have a granddaughter who is 7.  Family is very important to me and my favorite thing to do is play games, watch movies or go on adventures with them.  I grew up in a small town in Vermont, next door to my grand parents' dairy farm. I grew up learning about strong work ethic as the cows need to be fed regardless of whether you are sick. 
College brought me to Arizona, as I went to U of A with aspirations of becoming a doctor.  I was a biochemistry, premed major working three jobs between the University Medical Center ER, work study program for admin work for the ER Attendings and also for Rural Metro Ambulance.  I had volunteered for the Rescue Squad in Vermont since I was 15.  I became an EMT in AZ and then a Paramedic.  I loved it!  I ended up promoting up to Phoenix as a Paramedic Field Supervisor and then my career took off.  I moved "up the ladder" from that role to Operations Manager, Director of Operations, GM and then Regional VP over the State of Arizona with 600 employees (at the age of about 26).  I then worked over in corporate business development on a national bid team.  I had many great mentors who taught me about business and encouraged my success at a very young age.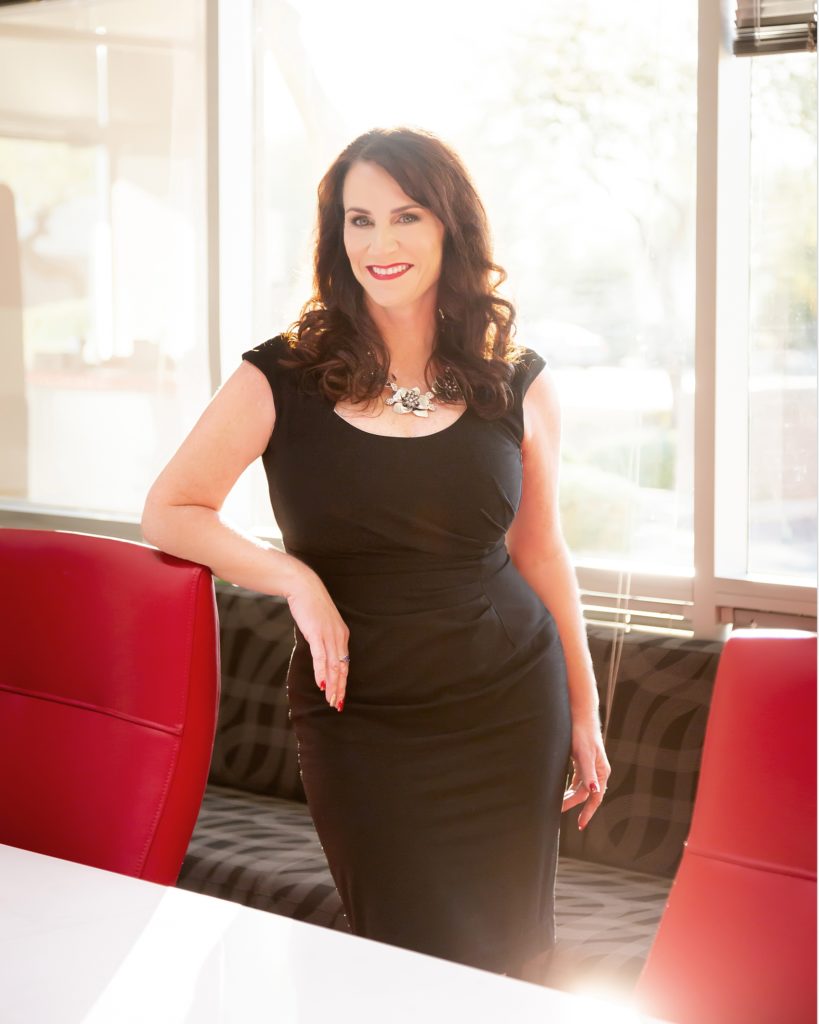 I had been married and divorced, and was a single mom.  I was gone more than I wanted to be as I wanted to be with my daughter more.  I ended up working as the Director of Operations for Carrie Martz at the Martz Agency.  They were going through a corporate move at the time.  I noticed many things that a moving company could do to make this process more efficient and it should be exciting, not so incredibly stressful.  I met my husband while I worked there, as he was the IT vendor.  We got married, blended our families and had two more children together to complete our Brady Bunch.  I started a commercial relocation company, and we merged our businesses.  Elontec provides Commercial Furniture, Relocation and Technology solutions.  We have diversified our business through the various downturns and with the goal to provide a seamless commercial move.  We provide up to eleven different major aspects of a corporate move to make it more efficient and cost effective.  
I love helping people move forward, both in business and personally. I have a fever to serve and love connecting others with a cause that they are passionate about. I founded the Diaper Bank of Central AZ in 2013 with the mission to provide 1,000,000 diapers and wipes to local non-profits helping families in need.
At the end of the day, I love living a life that is impactful, adventurous and authentic.
What inspired you to start your business?
I completed a corporate move where I had been working.  I believed that a comprehensive approach to include the major facets of a corporate move with a focus on bringing joy and peace would be a welcomed change.  My husband owned an IT company.  I started a commercial moving company and we eventually merged our companies.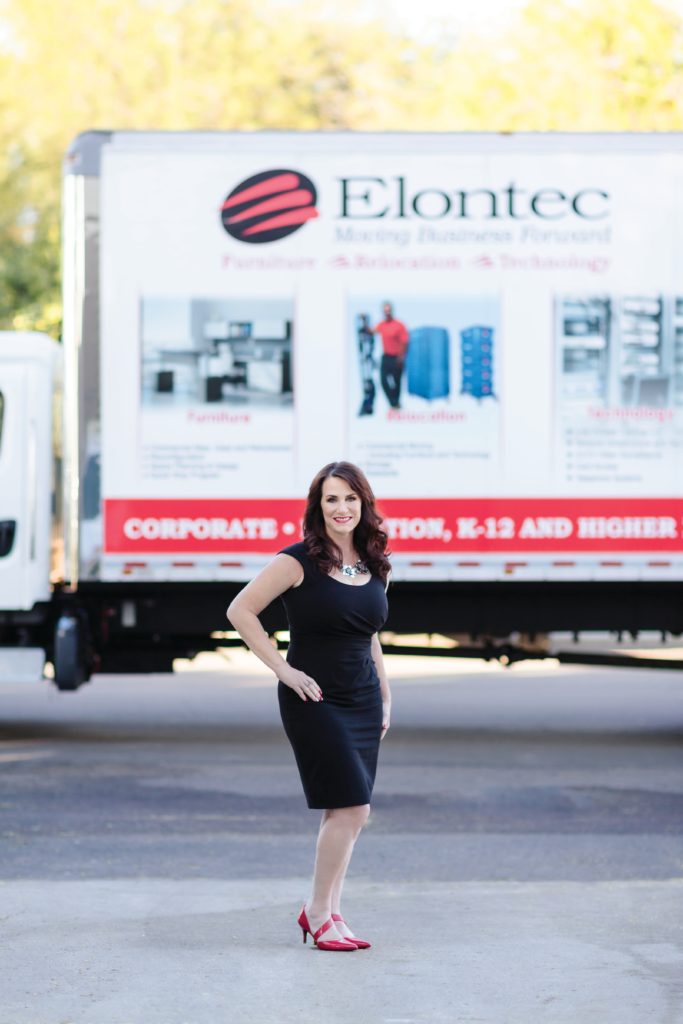 What are 3 words that describe you?
Determined
Social
Giving
What is your greatest gift?
The greatest gift that I have to offer others is my tenacity for making things happen. I am definitely an executer and thrive when getting things to come to fruition. I love bringing people together for a common cause.
How do you stay in an inspired state of mind?
I don't know if I would say that I always stay in an inspired state of mind, however I often am able to re-enter an inspired state of mind by engaging with inspiring people, by serving others and by learning something new.
How do you walk your talk?
When I am most successful at this:
I start my day with my gratitude journal, including a section just for things that I am grateful to my husband for.  I call them the White Knight Chronicles.  He is always doing things to help me, they are most often small things and I don't want them to go unnoticed.
I do a 30 minute workout.
Review my to do list for the day and double check the priorities.
Communicate with my team regularly
Be authentic 
Be open to feedback and ideas
Lift up my team members
Know what my teams dreams are (annual vision boarding process) and encourage them, help them reach their dreams and celebrate when they reach them
What is one story of your favorite story of someone you helped?
We had an employee who had a difficult life. Her dream on her dream board was to have a pretty smile. She would often hide her smile, hang her head down low all while talking timidly. We have a business owner friend in the dental industry, and we were able to help her get a gorgeous new smile, and much of it was even done pro-bono. The transformation was amazing. She stood tall, shoulders back, started wearing more professional attire, speaking more confidently and became one of our leaders. This was and still is such a treasured dream to help come true.
What are you most excited about right now?
We have a really strong team that is very focused on ending the year strong, despite Covid.  We have pivoted to add Work From Home office furniture that ranges in affordability.  We are also helping our clients reconfigure their workspaces by adding height to open concept workspaces as well as ensuring a 6' distance.  We are also providing solutions for our Universities and K-12 schools that are innovative and safety conscious.  We are focusing in these areas and looking for other ways that we can make a difference.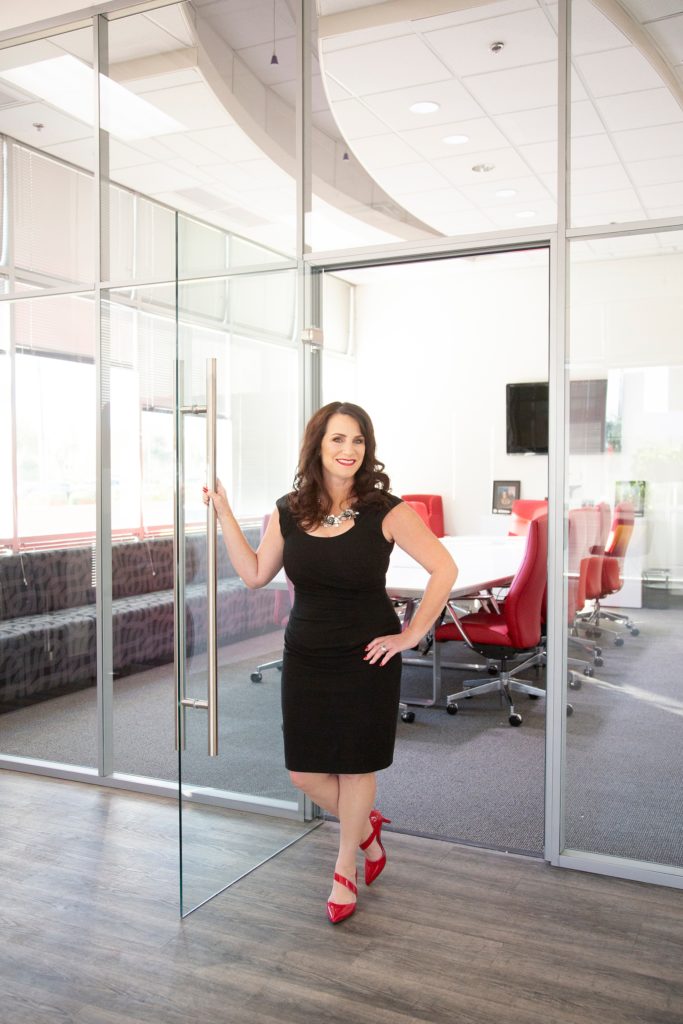 When do you feel your most beautiful?
When I am happy, at peace and of course have my hair curled, face "on" and am wearing my favorite outfit.
What is your favorite book?
Guiding Emily by Barbara Hinske (local author)
What is your favorite quote?
We can whine or we can rise, I choose to rise.
Do you have a favorite piece of art?
I love impressionist art and most any art depicting Catalina Island (Joe and I fell in love there, got married there and visit frequently).
Favorite object in your home?
Fireplace
Favorite hangout?
My back patio overlooking the lake!
Favorite can't-live-without item?
Mascara from My Little Mascara Club – founded by a local female entrepreneur.
What is your #1 tip for fellow entrepreneurs?
Follow your intuition and persevere!
What do you want other women to know?
Life is by design. Establish your dreams and create a path on how to make them happen. Set your annual goals based on these, and then bite sized goals every quarter and monitor daily or weekly. Have an accountability partner or Executive Coach to help with accountability. You can have the life that you desire!
To learn more about Ginger and her company Elontec, please visit their website: http://www.elontec.com/.