My heart and soul are singing and I can not be more happy. Light is emanating from my being, joy is seeping out of my skin, and I am so happy that I can barely contain myself. I just recently returned from my trip to Switzerland and Italy, two countries which have each found special places in my heart. Switzerland for being the first country I explored solo, and Italy a country so close to my heart that I swore when I was 15 years old that I would live in Capri some day. That previous statement, I still plan on making true.
There is something so special and life-altering for me when I visit foreign countries. I immerse myself in the culture, the history, the food and the architecture and every where I turn there is a cornucopia of information feeding my soul. Exhausted by nightime, but exhilarating all at the same time. I don't know how to explain it, but for those of you whom have traveled internationally, you may know what I experience, especially if you have a fondness for gorgeous imagery and photography and art.
Here's a collections of Instragram images from my travels over the past couple of weeks of a little behind the scenes with my parents and the sites I saw. I invite you to follow me on Instragram for more travels and fun as I explore unique and awe-inspiring places around the world.
From Las Vegas I flew to Chicago to meet my parents and then we flew to Zurich together. I don't photograph a lot of abstract pieces, but this one was really fun to capture in one of the underground tunnels walking from one terminal to the next.
Strolling the streets of Zurich on our way to the Fraumunster Church to see the Chagall stained glass windows.
A staple when visiting Zurich. Lunch at Sprungli on the Bahnhofstrasse with Mom and Dad.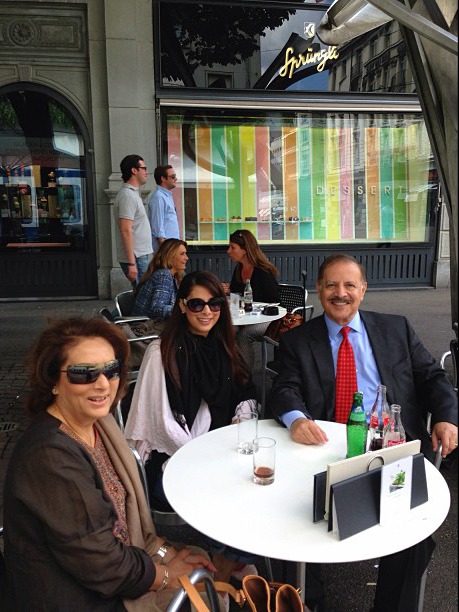 After 2 days in Zurich, we flew to Venice, Italy and passed over the gorgeous Swiss Alps in the morning. The mountain-high lakes and peaks were stunning to see from the air.
Buon Giorno Venizia, ti amo!
A gorgeous seaside dinner at the Hotel Excelsior on the Adriatic Sea. We even got a little "blowing up in the sky" a la my photographer friend David Thompson.
My Mom and Dad made me do it. Here's my tourist shot from the Rialto Bridge overlooking the Grand Canal.
Everywhere you turn there is gorgeous architecture, history and culture. I fall in love again at every turn. This was taken at the Hotel Excelsior, where we were staying on the island of Lido, about a 20 minute boat ride from Venice.
Catching a little beach sunset action off of the balcony on my last night in Venice.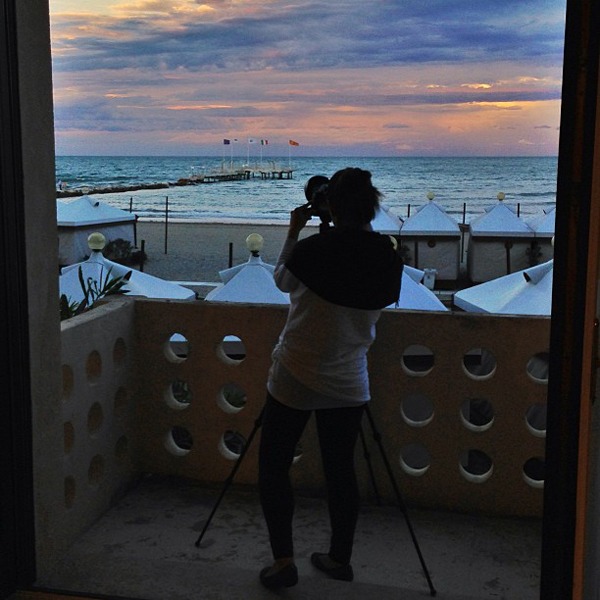 After 4 glorious days in Venice, we hopped on the train and took the ride to Florence. I have my GoPro camera on the arm rest capturing a time lapse of our ride across the countryside.
A stolen moment of my parents in front of a carousel in the Piazza della Repubblica in Florence. Taken with the slow shutter app.
After a whirlwind 26 hours in Florence where we packed in seeing the David, the Ponte Vecchio Bridge, the Duomo, Pitti Palace and the Uffizi Museum, we again hopped the train and ended up in Rome. Twenty-five years ago I sat on these same steps as a teenager, and here I returned with my parents and was thrilled to see the melting pot of nationalities and the heartbeat of Rome still beating strong. Here I am with my Mom at the Spanish Steps.
Exiting the Vatican Museum after visiting the Sistine Chapel on one of the most recognizble staircases in the world. I unfortunately found out that after Fuji funded the restoration, photo and video were banned in the Sistine Chapel. 🙁
Last day in Italy, and so I shopped! The famous Via dei Condotti lined with famous Italian designers, cafes and boutiques.
One of the reasons I love traveling, it forces me to look at the world from a different perspective. I can't wait for my next trip to Kenya and Turkey later this year!