What an absolute joy for me to attend for the third year straight, a boutique photography conference, Skip's Summer School. Fortunately for me, I've attended the first 2 years and would not have missed this year. It's such a unique experience, mingling and learning from the industry's top photographers, all the while meeting old friends and making new ones.
This was year was particularly special for me in that Skip asked me to photograph the conference both as an attendee, as well as some behind the scenes images. I could not have been more honored. After all, spending time with those that I admire is hardly work! So off I went for 3 intense days of workshops and hands-on shooting at the Mirage and oh yeah, did I mention Pulitzer Prize winning photographer, Vincent Laforet was there too? Yes, I was in heaving looking at his imagery and learning from the best.
So here are some highlight images from Summer School, and even though it's been years since I've been in traditional school, I'm happy to say I'm a life-long student.
Yup, I'm a nerd. Here's my seat on the end in the front row. Luckily I was joined by friends Adam, Jason, Deidre and Missy in the front row.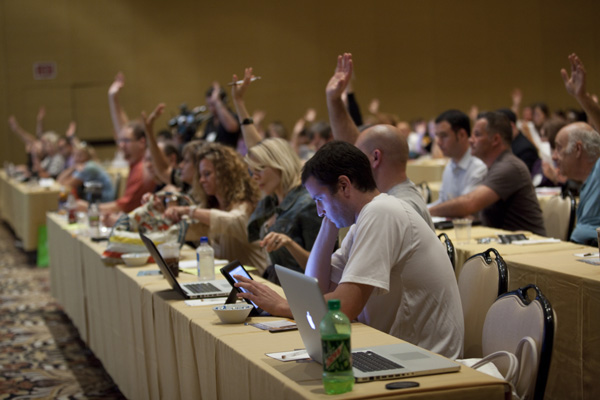 Roberto Valenzuela, a photographer based in Beverly Hills. Such a funny man!
Twins Jules and Joy Bianchi traveled from the Bay area to give their presentation.
Here's a lighting demo from expert Tony Corbel.
Fashion and Celebrity photographer, Matthew Jordan Smith had a captivated room.
And the keynote speech was given by Pulitzer Prize Winning Photogrpaher, Vincent Laforet.