I had mentioned in a previous blog post about a flash class that I am hosting and after months of emails and practical begging, it worked. I finally got Michael Willems and Dave Honl here to Las Vegas to teach their famous flash class. And who could not learn from flash and lighting experts Michael and Dave? These 2 names have now become synonymous with informative and practical workshops for pros, emerging pros, and those with advanced knowledge of photography. If you fall into any of those categories, you'll find that you will need this class to learn more about flash and lighting. What I love most about the classes was the easy learning format taught by Michael, followed by hands-on learning and practice with Dave. Who could go wrong?
Oh yeah, and did I mention that I was the model for the first day of the workshop? I'm not very comfortable in front of the camera, but I did my best for the sake of learning. Here's a collection of images from the workshops. Don't you just love that stunning blue sky behind me? Want to learn how to do that? Then take their next class. I'm already working on bringing Michael and Dave back to Las Vegas!
Here are 2 images from behind the scenes of the picture Dave captured above. Notice the use of one of Dave's softbox modifiers over his flash which was fired by a Pocket Wizard. The modifier was held by Dave's assistant about 2 feet in front of my face.
We had a lot of fun playing around and testing out flash theory, and I think we all came away with some great knowledge and a new reason to utilize our flash and modifiers for more powerful images. Here's a few more images from my camera captured from the 2 day workshops.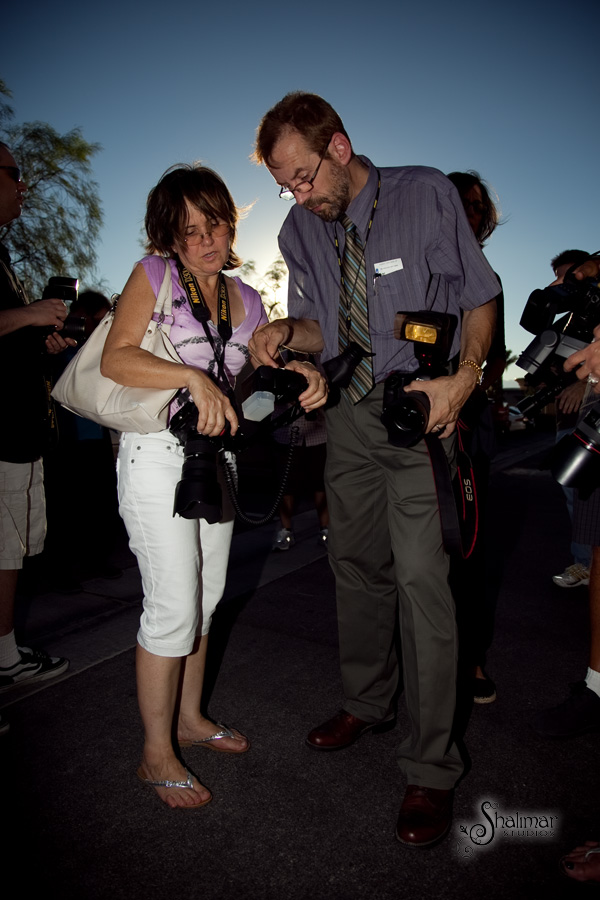 And of course the best image of the day is this one seen below. Thanks Michael and Dave for gracing us with your presence and knowledge. I can't wait for you to come back again!