As some of you know, I specialize in photographing Indian/Pakistani/South Asian weddings, engagements and events. And I'm always excited to be sharing those images with you containing all the vibrant colors and traditions. Additionally, if you've been following the blog, you've undoubtedly noticed my muse is a local Indian girl named Ria. Ria and I met almost 5.5 years ago and throughout the years have had so much fun putting together creative, themed shoots.
Our latest shoot was at the request of local makeup artist Lina Mourey, who wanted to expand her already booming portfolio to reach out to Indian brides. Lina had met Ria recently through classes held for professional makeup artists at MAC, and they hit it off. So when Lina expressed wanting to expand her business to include Indian brides, they contacted me to collaborate on a shoot.
Lina adjusting the wardrobe on Ria between looks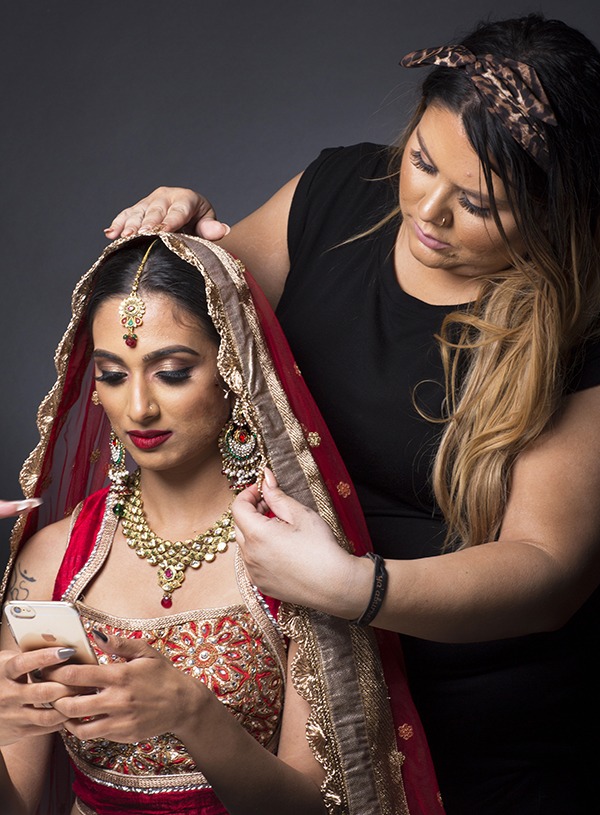 Not only does Lina do makeup, but she also styles hair, and as you'll see in the following images, she did an amazing job with different looks and styles for each wardrobe change. And it is with each shoot like this, there is a bevy of activity behind the scenes in addition to hair/makeup stylist, photographer and model. And so I want to recognize and send a big thank you to Michelle Wilson and Soniya Mody for assisting on the shoot, and to Sangita Umeria and Kalpana Mody for providing the gorgeous jewelry and wardrobe. Thanks ladies for another memorable and fun shoot!