Some may have watched and some may have TIVO'd, but I was one who was glued to my TV screen starting at 2am this morning watching all the festivities leading up to the Royal Wedding of Prince William to Catherine Middleton. As a wedding photographer, this was a can't miss event, and I was amazed to be witnessing from across the pond such a historical moment. Of course I remember the wedding of Prince Charles and Princess Diana, however I was much younger, and having been in the wedding industry for some time now, I knew this event today would take on a whole new meaning.
As may be expected, Kate has ignited a firestorm of new trends by donning an elegant and timeless dress designed by Sarah Burton for Steve McQueen. Very reminiscent of Grace Kelly on her wedding day, Kate's stunning wedding gown had a fitted bodice in delicate lace, with an A-line skirt, gorgeous, and fit for a future queen. So as we all were watching Kate make her journey from commoner to royal, there were many details that embraced poise, elegance and timelessness all of which the royals are known for. Take a look at this list and you may consider incorporating some of these into your wedding to make it a unique and timeless event.
1. Kate wore her veil in front for her entrance.
Like all British royals, Kate wore her veil covering her face until her father removed it at the altar. A long standing tradition in American culture as well, this has recently faded as brides have been opting for the veil only in the back. However why not honor the tradition with a blusher veil or a fun alternative, and maintain a sense of elegance and honor for the family and man giving you away to your future husband.
2. Kate did her own makeup
Kate looked gorgeous and no doubt she had an army helping her prepare for such a momentous occasion, such as the dress designer, florists and cake bakers. But she opted to do her own makeup so that she looked natural and recognizable when she met Prince William at the altar. Unlike me, she had a talent for that, however for the rest of us, take note that her makeup enhanced her natural beauty, not disguised her. For us girls, our wedding day is one of the most important days of our lives and being treated like royalty for a day includes having makeup professionally done. Have a trial run prior to your big day so you can see how you feel about your look. Keep it natural, enhancing your best features, and most of all, keeping you recognizable.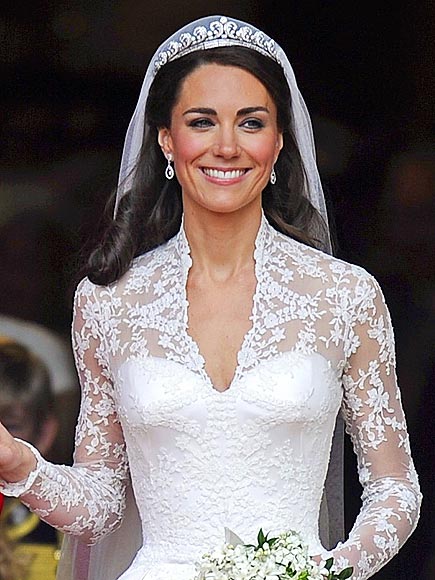 3. She wore a dress with sleeves
Thank you dear Kate for wearing this gorgeous dress with sleeves! How stunning was that lace draping across her shoulders and down her arms. Bucking with what is on trend right now of bare arms and shoulders, Kate's dress will go down in history as being a classic piece. The lace on the arms produces a beautiful slimming affect and looks gorgeous all at the same time!
4. Kate's bouquet was small and understated
Trend alert! Even though bridal bouquets have been shrinking lately, Kate's demure bouquet was the perfect choice for her. The bouquet served it's purpose with meaning and decor, however was not so overpowering that it distracted from her and her dress in design or color. Why not choose a bouquet in a soft, blush color for a little pop, and let you and your dress steal the night away as the center of attention.
There are so many other details from this wedding that will be emerging and finding their way into mainstream weddings. And I hope these few listed above will help you decide upon some important elements in your wedding that will keep it timeless, elegant and chic.