Whew, I'm finally home after traveling 3 weekends in a row and it's great to be back in my own bed. I love to travel and it's just as wonderful coming home to my cozy bed. So now I have some catching up to do. First, I want to share with you a little more about my trip to Seattle. I wrote in this blog post about my creativeLIVE experience which was wonderful. But what you don't know, is what happened outside of the classroom with a few other fellow photographers.
One evening after class, my fellow creativeLIVE attendees, Levi, Brook and I decided to head down to the famous Pike's Market. Russell joined us, one of the creativeLIVE chat hosts, as well as David, Trudy, and Jared, all local Seattle photographers. So off we were, a group of 7 of us with our cameras in tow. Our first stop at Pike's Market yielded some fun touristic type images seen below.
Then we headed down the street to the famous gum wall and on our way, passed by this really cool wall with all sorts of grungy, wall posters. It was a typical Seattle street, so I HAD to stop and have my picture taken in front of it so here I am.
Now, on to the good stuff. Just after my image was taken, Jared told me there was a better wall just around the corner, and he wasn't kidding! We made a quick left turn, and there in all it's glory was this gorgeous sight. It was dirty, spray painted, grungy, and a photographer's haven! (For those of you who have visited Pike's Market, this grafitti wall is facing the famous gum wall.)
So here we stopped, all 7 of us with all our gear and excitement of finding a cool spot which was a typical representation of one of the things Seattle is known for. We started photographing each other and taking turns holding gear and posing. Luckily Jared had brought a small, shoot-through umbrella which we hooked up to a common speedlight and set up a simple clam-shell lighting scenario. We triggered the umbrella speedlight through the optical sensor from our on-camera flash.
Here you can see Trudy posing next to the wall with this lighting set-up.
Well, I couldn't resist and had to get an image of myself in front of this cool wall, so here I am in an image captured by Jared. Thanks Jared, I love this portrait!
After taking turns photographing each other, we happened to run into 3 passers-by, Mallory, Dakota and Justin. Levi being the brave one, asked them if they would pose for us, and oblige a bunch of crazy photographers playing around in one of the most random locations for a formal photo shoot. Well, if you don't ask, you will never know, and we got lucky and all three agreed. With a face like Mallory's we all went nuts photographing her with her 50's style hair, and classic beauty features.
Here's a few images I captured of Mallory, Dakota and Justin utilizing the same lighting set-up with the shoot-through umbrella and reflector.
After all that excitement, we moved on to another location Jared wanted to show us. We went down a few flights of stairs, and at the landing against a blank wooded wall, was a simple wall lantern. We stopped and played around a little more, this time Levi posing for a fun, impromptu session.
Levi, known for wearing his famous hats, utilized his signature style for these images I captured of him.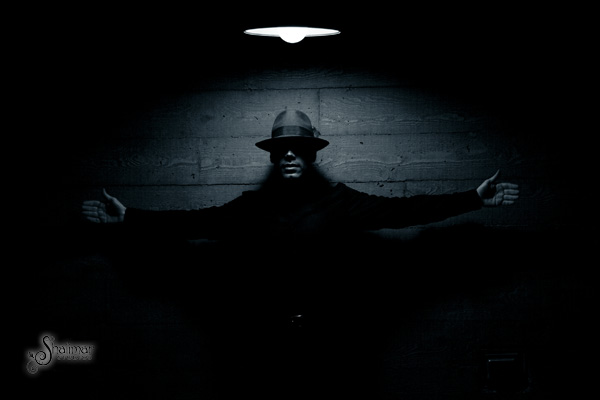 We finally rounded out the night with a little creative lighting for some unique images. We rigged a speedlight with a red gel and broadcast it through the metal railing from the stairs coming down to the landing we were shooting on. What resulted was an abstract pattern projected onto the wood wall behind Levi, which inspired him to do some fancy spiderman-type moves.
After a wonderful evening, I came away with my heart and mind full. I want to thank Russell, Levi, Jared, Brian, Trudy, and Brook for all the fun adventure on our Seattle street photography quest and look forward to many more fun sessions.