Today, July 12th, is St. Veronica's Feast Day, the patron saint of photography. She is one of many people who accompanied Jesus as he carried the cross, and in an act to help ease his suffering, she offered Jesus her veil. Upon wiping his face, his image appeared on the cloth. This is marked by station 6 along the Via Dolorosa, which commemorates where this encounter happened in Jerusalem.
Painting by Hans Memling
Whether you believe in Christianity or any other region, we can not deny the importance and value photography has become in our lives today. What was once a medium used on occassion to capture images from milestone events such as graduations and birthdays, has now transitioned into a means of us sharing and expressing who we are on a daily basis. What we eat, where we are in the world, who we have met, and what we wear are seamlessly shared with our loved ones and an extended network reaching worldwide.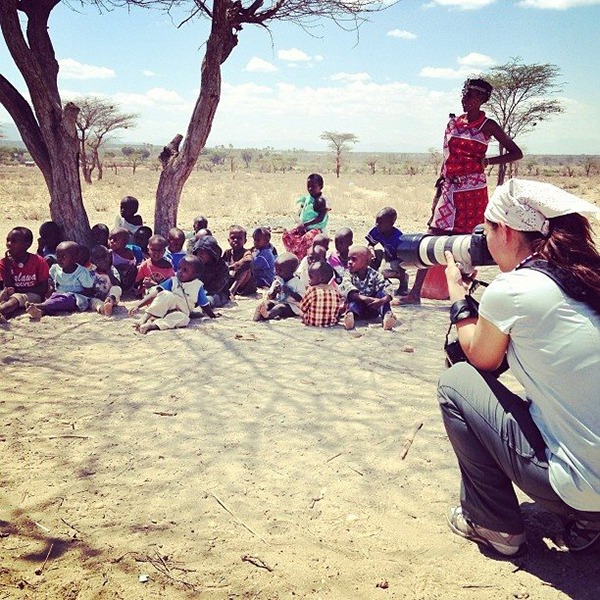 Photographing children of the Samburu Tribe in Kenya
As a professional photographer, I feel very lucky to have met so many inspiring and dynamic people through conferences I've attended, clients who have invited me into their lives, the trips I've taken around the world, and the humanitarian issues I've been able to touch with my images. Photography has shaped who I am as a person through imagery, experience, and looking at the world through different eyes. It has broken open the doors of confined thinking, giving me a limitless form of expression, and in some small way, has let me share with you all a little piece of those in front of my camera.
And so today, whether you are a professional photographer, a hobbyist or amateur, whether you use a DSLR or iphone, I wish for you to continue to photograph without boundaries. Be creative using your own unique vision, capturing life without rules as a true expression of who you are and what is important to you. I wish for you to lift up those around you creating imagery through expression, education, charity, and honor. And I wish for you that these images in the end, be a testatment to the beautiful life you have lived.