I am a nerd at heart and I'll never stop learning and educating myself.  And that is why when there is an opportunity to share knowledge and help each other out, I'm the first to sign up.  Instead of running away and hoarding information, I firmly believe the more we share, the stronger we all become.  And nothing is more valuable as a photographer than continuing one's education.
Each year WPPI (Wedding and Portrait Photographers International) decends upon Las Vegas where thousands and thousands of photographers converge for education, networking and meeting up with old friends.  I'm so lucky WPPI is right here in my backyard and always block my calendar so that  I don't schedule any conflicting obligations.  In addition to listening to industry leaders WPPI is also a great opportunituy for me to see what's new from my vendors so that I can provide my clients with high-end products and services. This year I had a few very specific items I wanted to look at and those will be launched soon!
Here I am with photographer/friend Joan, visiting Joel from Adorama.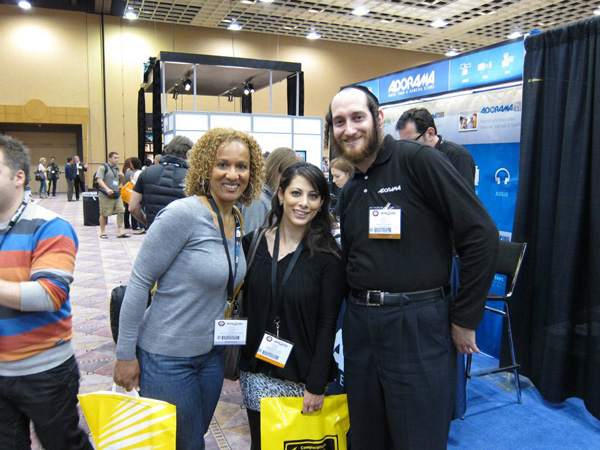 I also have a very exciting opportunity coming up next weekend in Seattle through creativeLIVE.  I was accepted into Bambi Cantrell's Master Posing class which will be broadcast live on the Internet March 16th-18th.  For those of you who may not be familiar with Bambi, she is the leading female wedding and portrait photographer in the world.  She has paved the way for females to enter this industry and I'm so incredibly honored and excited to be with her for 3 days straight.  I was one of only 5 students picked to be in studio for the class, but for the rest of you, you'll be able to watch for free online on any of those dates at this link.  For those of you photographers/friends reading this, you can also purchase the downloads of the class to review and reference in the future.
And here is the video clip I submitted to creativeLIVE for Bambi's class.  You may even see your portrait in the slideshow!