I admit it. I'm just like everyone else who can get bored with their surroundings. I'm a creature of habit but my photography has forced me to look at the same things in different ways. Not just in a different light, but from different perspectives, from new eyes, and with a different heart.
Okay, I admit it again. I was never a fan of Las Vegas and since moving here, I have missed one thing more than anything else. Grass. I miss greenery, trees, lawns and vegetation. But after living here in the desert for almost 11 years, I have finally been given new eyes and a new appreciation to view this wonderful state that I live in. See, recently I took a helicopter ride from the Las Vegas Strip to the Grand Canyon on Maverick Helicopters. It was a gift given to Joey so we ventured out mid-week with a slew of tourists and our trusty pilot.
As we were flying, Joey and I were pointing out landmarks we recognized and told stories to our fellow passengers from a local's perspective. As we shared our stories and tips, I felt a new awakening come over me. Not only was I looking at the same landscape I have seen for the past 11 years, but I was noticing things I have never seen before, all because my perspective changed. Everything else stayed the same, but my elevation was different. I looked at the cracks in the desert more comprehensively and in a global sense and how one ridge or peak in the valley contributed to the deserted terrain below. The vast landscapes blew my mind as I felt a new appreciation come over me of something I had taken for granted.
So here I share with you some of the images I captured that day. I'm proud to say I live in Nevada with such amazing beauty. And from my story, I wish you all a Happy New Year with wonderful opportunities to look at your world in a different perspective.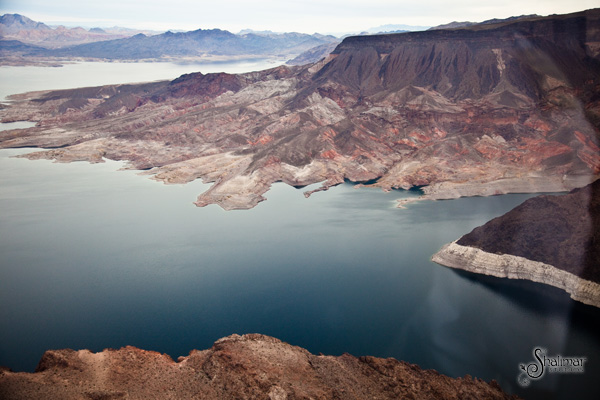 Joey and I were able to ride in the front of the helicopter on the way back to Las Vegas. I had to capture some sort of documentation as we flew over the Fire Bowl that we were there!
As we flew over the crest of Sunrise Mountain, you could see the entire Las Vegas Strip in the distance. It was beautiful!