Well, I successfully made it back from Seattle and what a great experience it was! I'm an avid fan of online learning classroom creativeLIVE based in Seattle and have many times spent my whole weekend glued to my laptop watching and learning from the best in the photography industry. I've often pondered what it would be like to be an in-studio student and when Bambi Cantrell's class was announced I knew this was the one for me. So for 3 intense and information-packed days I was honored to be right there with new friends and fellow students Levi, Brooke, Ramona, Ara and Tessa.
Images courtesy of creativeLIVE host Kenna Klosterman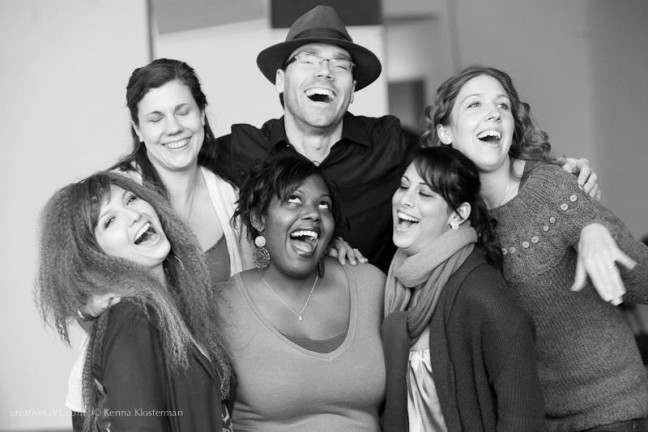 Not only was the weekend full of great posing and lighting tips, but Bambi pulled out all the stops on the third day. She made a dress out of newspaper, draped another model in black tulle with a tulle headpiece, and lastly styled fellow student Tessa in a nude bodysuit with a long tulle skirt.
Here's Bambi constructing the dress out of only newspaper and tape on model Jen, followed by high fashion Mackenzie in black tulle and of course Miss Tessa in all her high-fashion glory.
The whole creativeLIVE experience was one I will never forget. Each night I returned to my hotel room with my brain spinning from all the great info Bambi shared with the students and online community. I highly suggest if you have ever considered to attend a creativeLIVE class, to go for it. Like me, you'll learn crucial information to take your photography skills to the next level and meet new people who I have a feeling will become life-long friends.
And I can't end this post without giving Bambi a huge thank you and hug for inviting me to be in Seattle and experience first-hand creativeLIVE. Bambi, you inspire me, you have taught me so much, and I can only hope that I make you proud putting all the knowledge you have given me into continuing to create amazing images. Thank you!