Some of you may recall I took my first African safari last year to Kenya. I spent 8 days traversing the country, visting 4 different national parks. It was a dream come true for me as going on safari was #1 on my bucket list. Well, once I returned and shared my stories and images with my family, I knew it would light a fire underneath them. And so it did, and just last month I returned to my beloved Africa on a family trip. We visited South Africa, Botswana and Zambia, and because of the extensive amount of images I have, as well as varied experiences, I will be sharing that trip spread out into different blog posts.
Our first stop in South Africa was Johannesburg, the famed city, iconic and synonymous with names like Nelson Mandela, apartheid and Soweto. And so those were the highlights of the few days we had there.
We first ventured to a Muti Shop, or traditional medicine shop or witch doctor. Found in the city center amongst many other local retailers, varied concoctions are made depending upon the type of ailment the customer is experiencing. Many South Africans conintue to believe in the healing powers garnered through animal and plant parts, and thus there are several Muti shops all throughout Johannesburg.
At the entrance to the shop, you can see a wide variety of items, drums, swords, and baskets.
And as you venture in further, you find boxes of different herbs, dried animal parts, horns, and jars of spices all used by the witch doctors.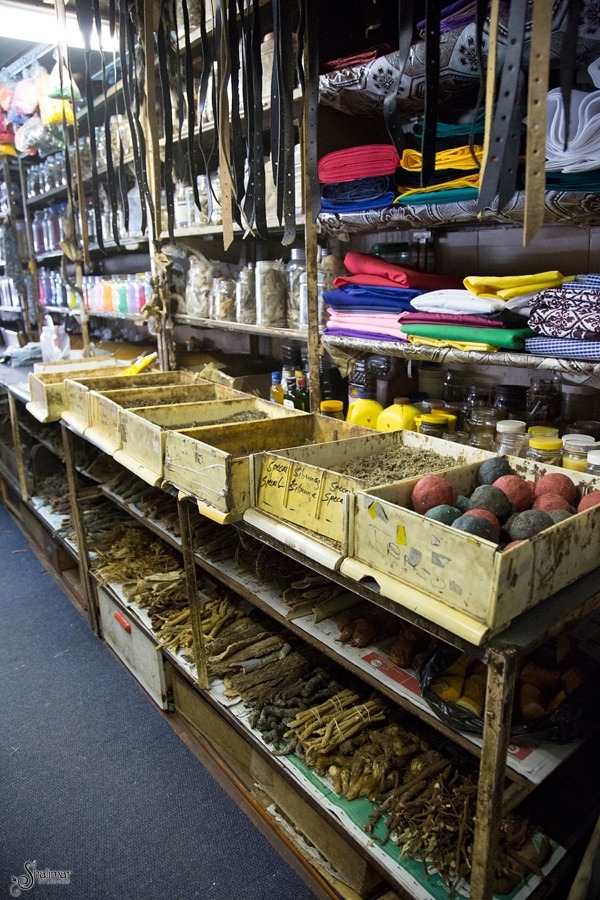 As we were visiting, a client came in and requested a remedy for their ailment. As the shop owner mixed the various ingredients, I asked if I could take a picture. She agreed, as long as I didn't show her face.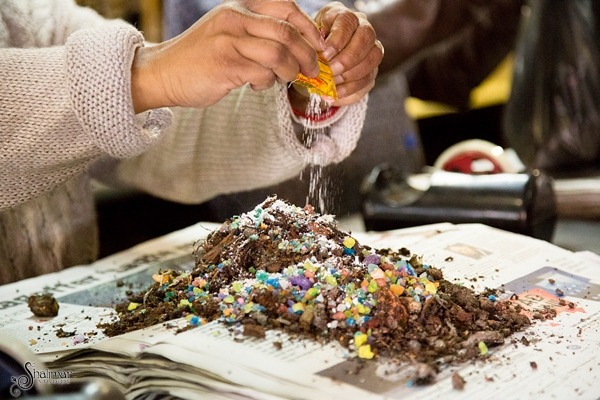 Next stop after the Muti Shop was the famed township of Soweto. Now an incorporated part of the Johannesburg municipality, Soweto was originally a dedicated area shortened from South Western Townships. Most widely known for the violent riots from the 1970's during which apartheid was in full effect, the rioting heightened when the government implemented laws to enforce education in Afrikaans, rather than English.
Graffiti seen on a wall at the entrance to Soweto.
Soweto today holds a population of almost 1.3 million people, comprising about 30 different districts. Residents continue to live in areas without electricity, limited access to water, and are littered with "matchbox houses." These 4-room matchbox houses were initially installed by the goverment as cheap housing during apartheid for black workers and continue to be the standard quality of housing in the township.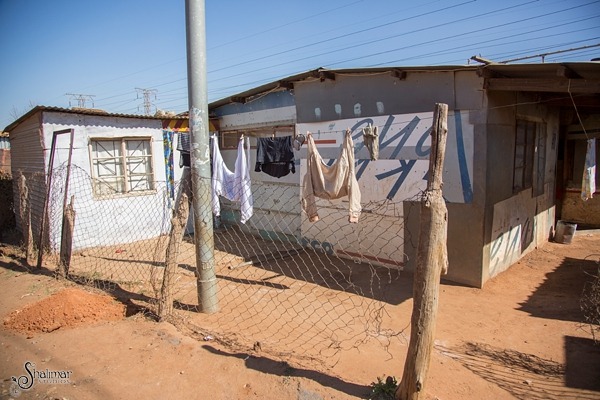 Men walk along a dirt road in the Motsoaledi disctrict, with a population estimated at 27,000, they share only 60 taps for access to fresh water and have no electricity or toilets.
As we ventured through Soweto, it was hard to look at our surroundings and realize that in the 21st century, people are still living without the bare necessities. Rudimentary fencing, aluminum roofs, barbed wire, and makeshift accomodations were made the most of with their limited resources.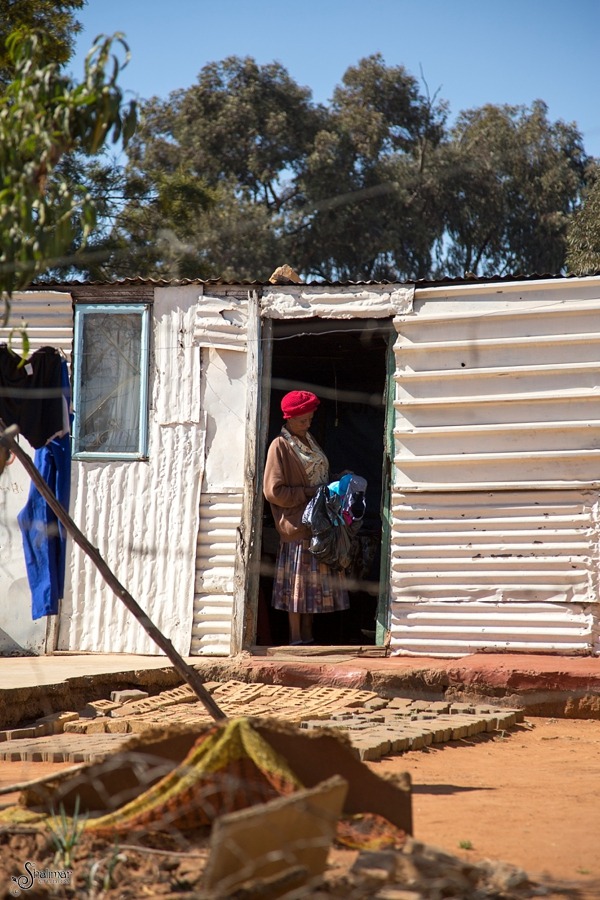 We had an opportunity to stop into one of the local day care centers as well. This parcitular center was fully run off of donations, as the residents did not have enough money to pool to pay for education materials.
What a completely heartbreaking and heartwarming moment to be able to spend some time with these kids. They came running to us to give us hugs upon entry and were just as eager to show us their 1 room classroom. A very touching moment indeed.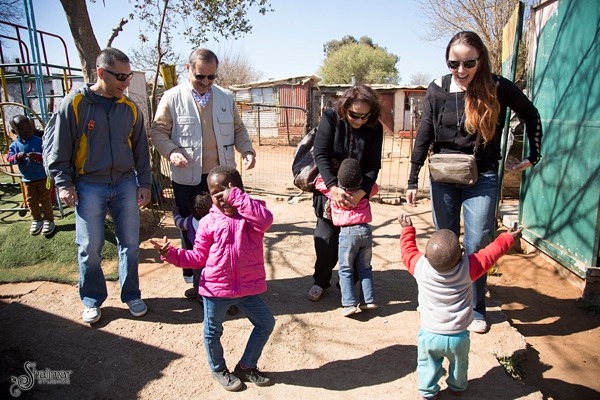 After the day care center, we visited Vilakazi Street, in the Orlando West district of Soweto. It is the home to Nelson Mandela and Demond Tutu, boasting the only street in the world to produce 2 winners of the Nobel Peace Prize.
Ribbons adorn the bars outside 8115 Vilakazi Street, the home of Nelson Mandela
This home that Nelson Mandela shared, was first occupied with his first wife in 1946, of which he divorced, and was then joined by his second wife, Winnie in 1958. Sentenced in 1964 to life in prison, Nelson finally returned to this home in 1990 after his release from Robben Island. He spent only 11 days at this residence before he and Winnie moved to the Beverly Hills district of Soweto. This home has been carefully restored to its original condition and houses several personal affects of the Mandela family, but also displays the bulletholes and scars left from his days of being targeted prior to his arrest.
Nelson Mandela's favorite recliner.
A large poster shows one of the last photos of Mandela taken at this home just prior to his arrest, and the first photo (upper right) of his return home from prison.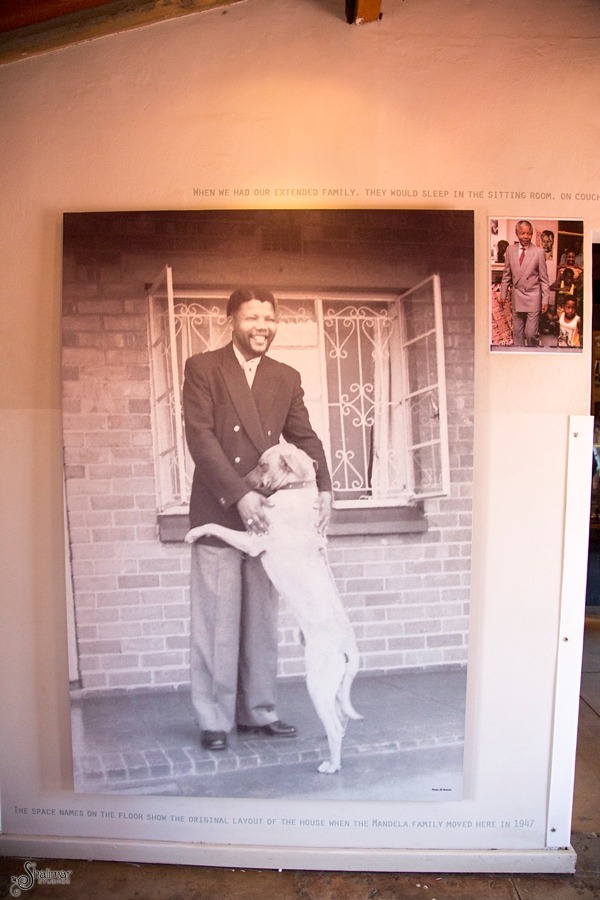 A stone carving of a raised fist sits in the garden outside. Tata was the name his grandchildren called him.
And the famed Orlando water towers easily seen at the horizon from Vilakazi Street.
I have to say, Johannesburg and Soweto, you completely captured my heart. From all the violence, trials, tribulations, fighting, discrimination and rebirth, I have a sense that the world can right the wrongs and move forward. And for all that has overcome, for all that is yet to accomplish, I see people banding together, taking it one day at a time, and one step at a time. I walked away from this experience with a palpable sense of community, of coming together and of prospering through adversity. And nothing sums up this experience more than what our guide told us at the end of the tour, which was, "When you get back home, please tell your friends that Soweto loves them."